JOT SINGH KHALSA
BIOGRAPHY
Our business and manufacturing facility is in Millis Massachusetts USA about a 50 minute drive, southwest of Boston. I'm Jot (pronounced Joat - 'rhymes' with boat) Singh Khalsa and I grew up in the Boston area. We value giving back to the community and are very involved in creating a program in metalsmithing in Amritsar India at an exceptional school for pre-university aged children who come from many countries called Miri Piri Academy.
My personal history in metals....
For 6 years, beginning in 1972, I trained intensively in art, jewelry making and metalsmithing at the State University of New York at New Paltz. There I learned to create silver and gold jewelry and artful objects in non-precious metals. Shortly thereafter in New York City,
I attended the 1st New York Knife Show. Impresed by what I saw and handled I said to myself 'I can do this!' Our small manufacturing facility and home office, is where my team and I design and fabricate handmade knives, swords and Kirpans (sacred Sikh knives). We also design, create and offer quite a bit of jewelry and more recently artful objects for the home, office and Gurdwara (Sikh Temple). All of these can be viewed and purchased right here on this website. We are happy to consider creating something unique and special for you or loved ones.
I've enjoyed designing edged tools and weapons for over 40 years. Fine-tuning the mechanics of a folding or automatic knife, and meeting the challenges that a one-of-a-kind dagger, sword, kirpan or jewelry project present, is immensely satisfying. Choosing the materials that will best suit the subtleties of a paritcular piece is another aspect that I take pleasure in. Matching different colors and shapes of a handle or inlay materials with patterns of damascus steel. Within a piece of jewelry it might be considering gemstone colors and shapes that complement one another. It's very rewarding when a piece that I've toiled hours, days, or months over develops into something that pleases others as well as myself.
A little about this image: In April 2017 on Parliament Hill in Ottawa, Canada during a special Sikh celebration, one of our 'Song of the Khalsa' swords was presented to Canadian Prime Minister, Justin Trudeau. It was to honor his efforts in supporting the diversity of Canadian culture, by populating his Cabinet with that same diversity. (And....in 2021, we appreciate that President Joe Biden has done similarly here in the USA!)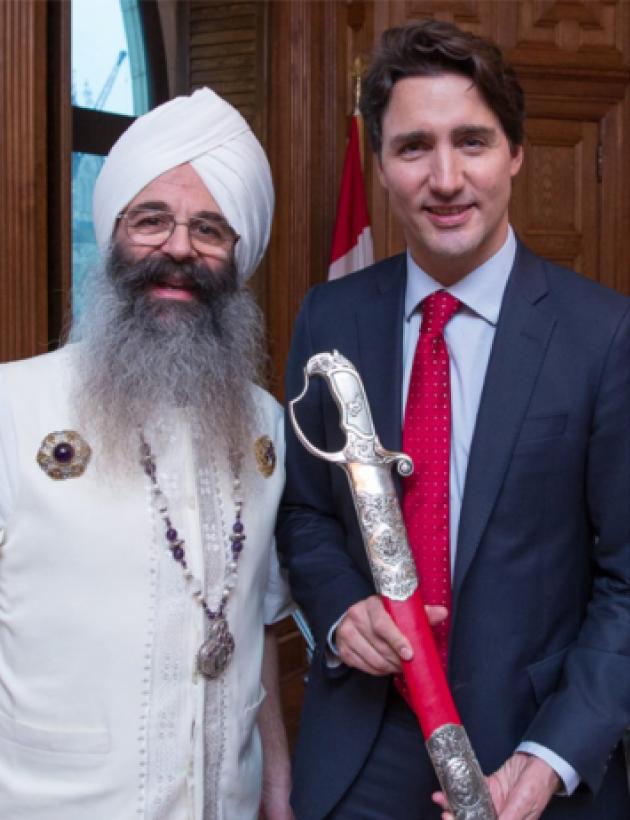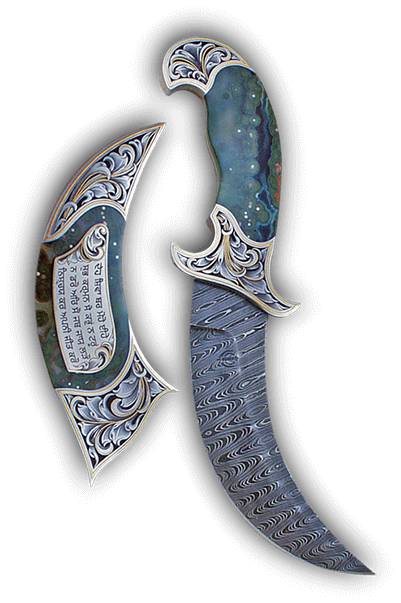 Technique
My 'Custom blades' are hand-made. I employ the stock removal method in grinding blades, and all other processes are done completely by hand, utilizing a variety of tools and machinery.
My style is original, often a combination of classic and contemporary. I create designs with both a visual and a practical aesthetic in mind. My knives, swords and Kirpans (Sikh knives) fit in the hand comfortably and have good balance. My 6 years of training in gold / silversmithing and metalsmithing at a university, provide me versatility in incorporating numerous possible elements into my designs. This can work to also include your concept in something unique, original and wonderful, for you and/or your family to treasure. I often combine precious metals and natural gemstone materials, accented with precious or semi-precious gems. Over decades I've acquired and developed quite specialized and unique skills to utilize these materials.
For about 20 years, I forged my own Damascus steel. Because the pattern-welded Damascus steel-making process I employed produced noxious fumes, since around 1999, I've chosen to purchase my Damascus steel from several reputable professionals who make it for a living, for our clients custom projects. A varierty of sohpisticated patterns in stainless steel damascus, and high carbon steel and nickel damascus are available. Even though I'm purchasing these Damascus steel bars and plates from others, we still fit, shape, grind and do all the final finishing and etching of the blades. We do some of our own hardening and tempering and rely on professional heat treaters for our longer bladed items.
Beretta Award
for oustanding achievement in handcrafted cutlery
at the California Custom Knife Show - October, 1988.
Best Knifemaker/Engraver Collaboration
small dagger w/ matching scabbard at the California Custom Knife Show - October, 1988.
First "KI" Award (Knives Illustrated Magazine)
for Best Art Knife (Dagger)
at the Knifemaker's Guild Show
Orlando - Florida, July, 1989
Best Damascus Knife (Dagger)
at the 13th New York Custom Knife Show
presented by Damascus USA - November, 1990.
Best of Show (folding knife)
at the first Meadowlands Custom Knife Show
New Jersey - March, 1995.
Best Art Knife
at the Blade Show
Atlanta, GA - May, 1995.
Best Folding Knife
at the Rhode Island Knife Show
October, 1995.
Best Folding Knife
at the Espolama Knife Show
Lugano, Switzerland - April, 1996.
Best Folding Knife
at the Blade Show West
Costa Mesa, CA - September, 1998.
Best Folding Knife
at the Southeastern Custom Knife Show
Winston-Salem, NC - September, 1999.
A presentation of one of our 'Song of the Khalsa' swords to Governor of Massachusetts Charlie Baker, by the Sikh Community of Westborough, MA. It was recognizing his stalwart efforts keeping all peoples of the Commonwealth safe amidst growing concerns around deportation of those who may have been in the process of gaining US citizenship.
Read More Testimonials
After the tratakum meditation when the image of Adi Shakti kept coming to my mind, I found Jot Singh Khalsa's beautiful works on the web. As soon as I saw the symbol with axes, I knew I needed to get the one. I feel so much strength and radiance from the pin and look forward to spending time with the powerful symbol crafted with Jot Singh's subtlety.
Read More Testimonials
Just wanted you to know the necklaces we bought for our boys were well received. We bought them the small gemstone handled daggers, one with an amethyst and one with turquoise. Thanks for your guidance.
Read More Testimonials
Thank you so much for sending the 5 'Song of the Khalsa' swords for my family members. They arrived in perfect condition and are all very beautiful! The titanium nitride (gold tone) inserts were worth the wait. Keep up the great work!
Read More Testimonials
I received my 'Song of the Khalsa' sword today in the mail. It was as promised. Blue scabbard. Cupronickel fittings with gold tone inserts. Beautiful laser engraving on the blade and 2 wonderful sayings. This masterpiece will be a treasure in my collection for years to come. Thanks for your excellent work!
Read More Testimonials