SPECIAL OFFER:

Free Inspirational Blade Etching on your purchase of 2 or more of any of our Artisan Kirpan. Please indicate which inspirational blade etching you want on which Kirpans - at checkout there will be a place to leave us a note there.
In stock and shipping
Our first Noble Lion kirpans are available in the medium size! White pearl Kirinite or midnight blue Kirinite (durable beautiful resin) handle and scabbard inserts. They are inset on the handle with a Khanda/Adi Shakti shield (for guidance and protection) and on the scabbard with an exquisitely sculpted lion (to help you towards having the strength of a lion)! Both of these inserts have been plated with a very durable gold tone/ titanium nitride finish.
Compact size - coming mid/late December 2023! Large size by February '24.
When we made mosaic natural mother of pearl kirpans – 8 to 10 years ago, (which we have no plans to do again because of the challenging reality of variations/imperfections in that natural material) – the white pearl always sold out the quickest.

The white pearl Kirinite looks a lot like natural mother of pearl…. That is one reason why we are so enthused about these new kirpans! The exquisite, original laser engraved design work is another!
We have received numerous prototypes from this new supplier and several more are still expected prior to receiving our production. We are pleased with the progress they have made providing very tangible improvements with each batch of these. Orders over $265 ship free in the United States!
Medium size plain Noble Lion Kirpans are $410 including strap and pouch. Each have a 4.5 inch/11.4cm blade (9 inch/23cm overall length, including handle). $95 more for exquisite laser engraving!
We are enthused to be able to offer you exceptional new artwork that is laser engraved on both sides of all four sets of metal fitting on both sides of the Kirpan. Patterned after our much more expensive hand engraving, the laser engraving adds elements of beauty, elegance and sophistication that we have not been able to offer so affordably in the past.
Each Kirpan comes with one perfectly fitted adjustable strap in 2 color choices. Black and gray or dark blue and gray. A gold embroidered zipper pouch is also included. These Kirpans are sharp. We wonder why you would bother to carry a Kirpan that is not?
Inspirational Blade Etching or Personalization... choose from the 3rd drop-down menu above. We have sacred, inspiring Gurmukhi and English phrases that can be deeply etched onto the stainless steel blade of your Kirpan(s) for $50 each.  It is also possible for us to create any wording and/or design work for your Kirpan blade that you'd like and that is an additional $250.  
IF WE ARE SHIPPING TO YOU OUTSIDE THE USA - EXPECT TO PAY SOME DUTY/TAX ON YOUR ORDER. 
Stainless Steel's energies are highly projective. If you are looking to protect yourself from aggressive advances or any forms of extreme negativity, stainless steel is a good option. Having, wearing or keeping Steel close at hand, also offers one strength, courage, grit and determination. Stainless steel is also maintenance free and never changes color or tarnishes.
WHAT IS THE KHANDA / ADI SHAKTI SYMBOL?




The Khanda / Adi Shakti is a symbol of infinity.

It relates to primal creative power and has three parts to its design:

The Chakra is a circle, also a symbol of infinity and reminder that God's infinite nature, has no beginning or end. To the extent one understands the creation as a reflection of the Creator, a circle can be seen to reflect the oneness and unity of mankind in essence, regardless of apparent differences of race, religion or gender.

The central Khanda is the double-edged dagger (in center), representing the straight and narrow path of righteousness, the razor's edge that cuts both ways – in that what you do to others you are actually doing to your Self. In yogic terms, the khanda represents neutral mind – the ability to make non-reactive decisions.

The two Kirpans are curved single-edged knives on both sides of the symbol and represent the polarities that need to be balanced by neutrality: temporal and spiritual, negative and positive, etc. In yogic terms, these two kirpans represent the negative and positive minds. Guru Hargobind (one of the founders of Sikhism) wore two swords, signifying Miri – political or temporal power, and Piri – spiritual sovereignty.


Orders normally ship within 24-48 hours of receiving them. If you have requested blade etching on an Artisan Kirpan or "Song of the Khalsa" sword, we may need an extra day.

All jewelry/artful object orders of 'in stock items' ship within 24-48 hours. We will advise you within that time frame if we need a few more days to locate or assemble it or if the item is out of stock we'll provide similar options for your consideration.

USA orders ship via Priority Mail (2-3 day delivery normally), unless you prefer Fedex or UPS, all of which you choose at checkout.

International Orders ship mostly through DHL Express unless you prefer another carrier. We ship all over the world, and DHL affords us, and in turn you, excellent pricing. Canada - next day. UK - two days. Most other places 3 - 5 business days.
IF WE ARE SHIPPING TO YOU OUTSIDE THE USA - EXPECT TO PAY SOME DUTY/TAX ON YOUR ORDER.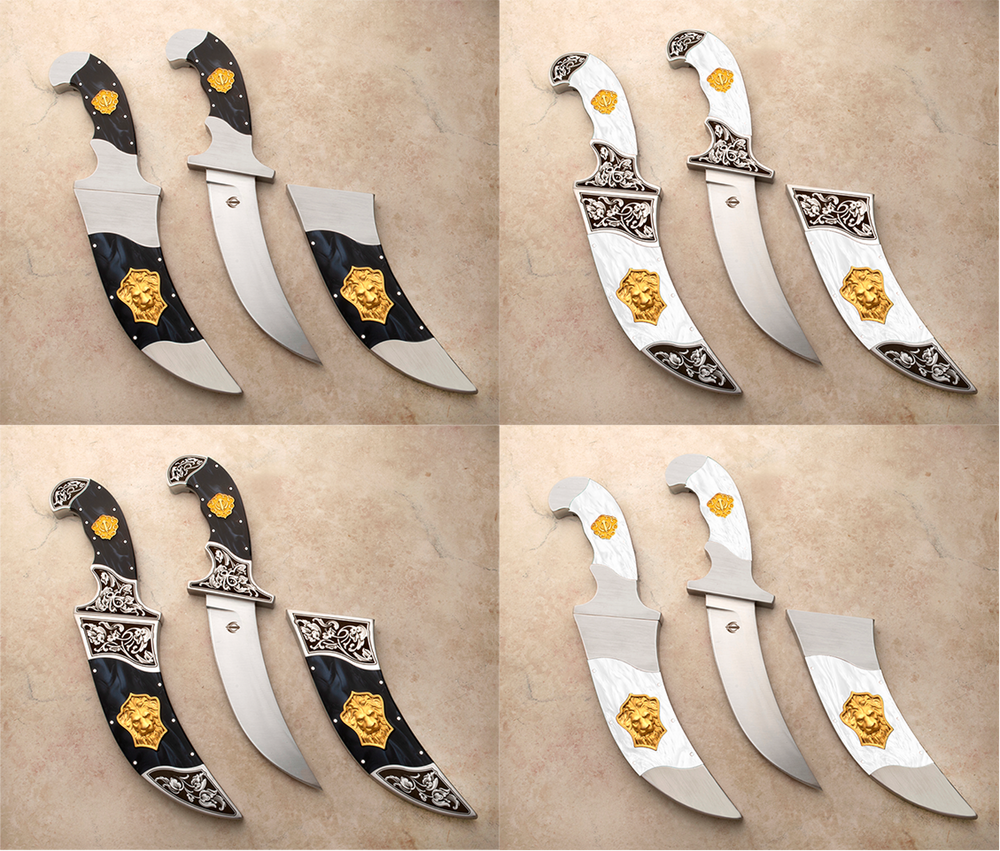 Preorder at 30% off - Compact Noble lion Kirpans!
Regular price

from

$304.50
Take a look
NEW!! Black G10 Kirpans - in stock and shipping
Regular price

from

$325.00
Take a look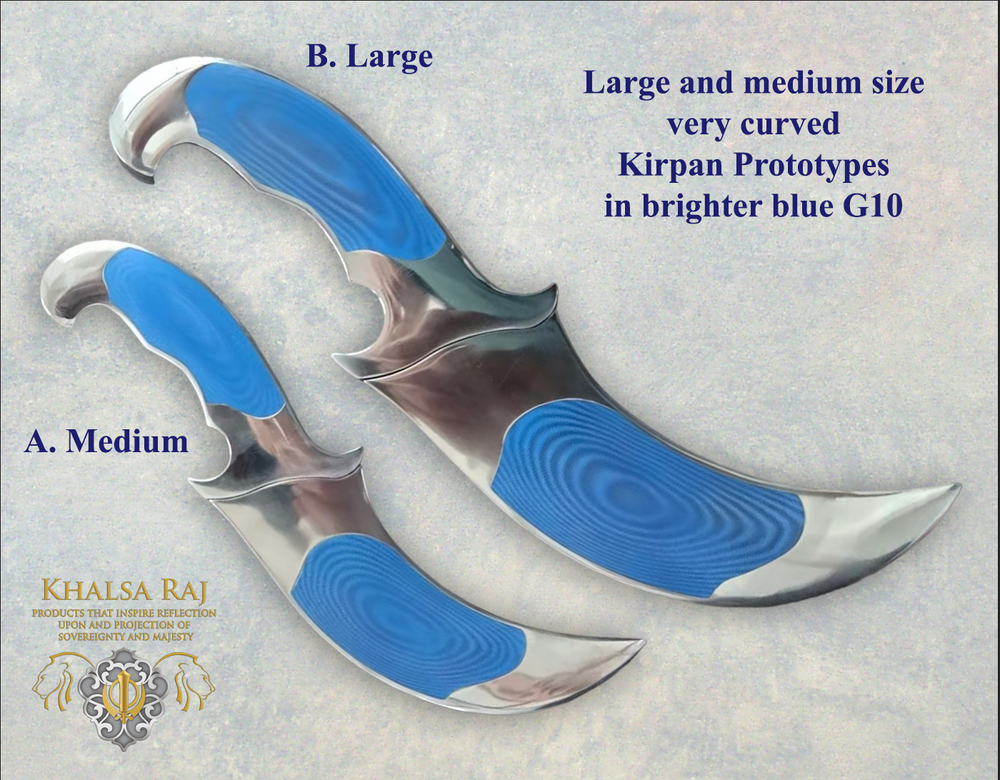 Pre-Production Very Curved New Kirpan Prototypes
Regular price

from

$475.00
Take a look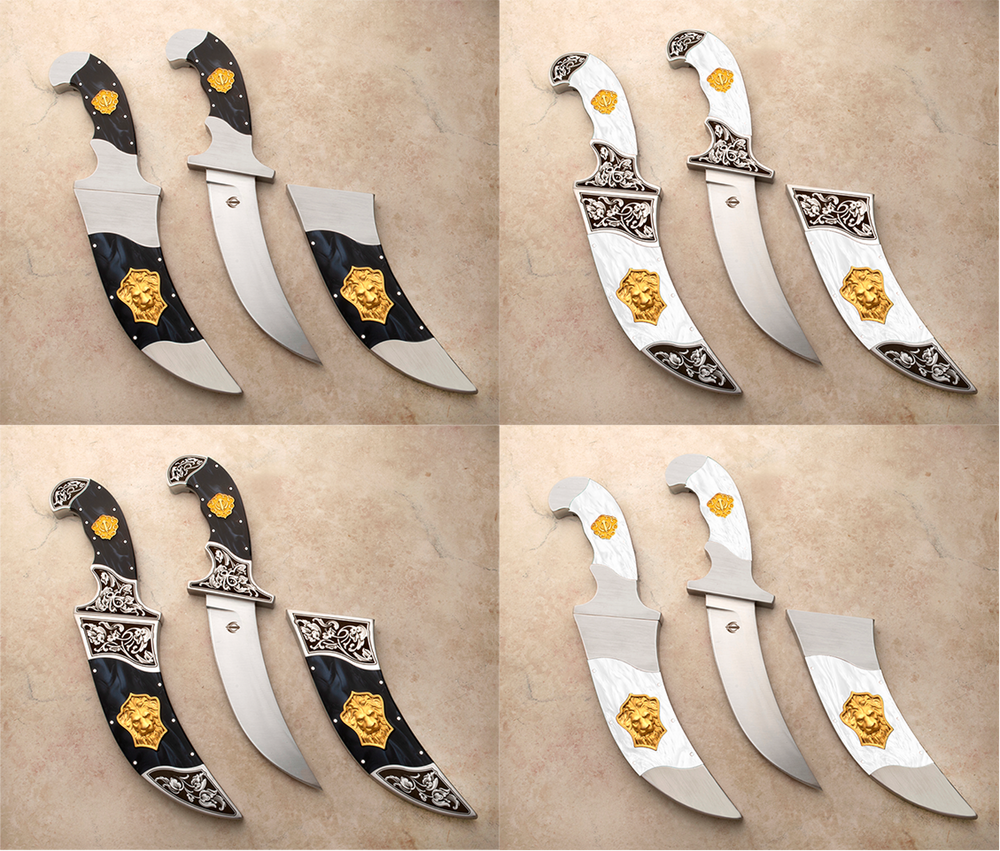 Preorder at 30% off - Compact Noble lion Kirpans!
Regular price

from

$304.50
Take a look
NEW!! Black G10 Kirpans - in stock and shipping
Regular price

from

$325.00
Take a look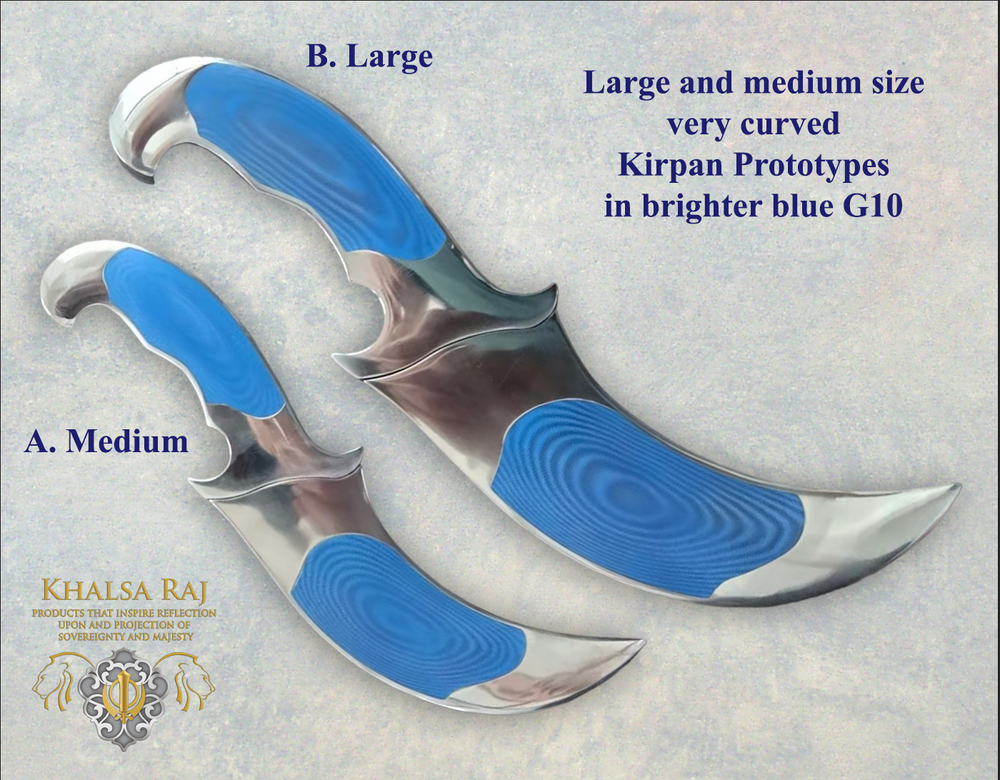 Pre-Production Very Curved New Kirpan Prototypes
Regular price

from

$475.00
Take a look